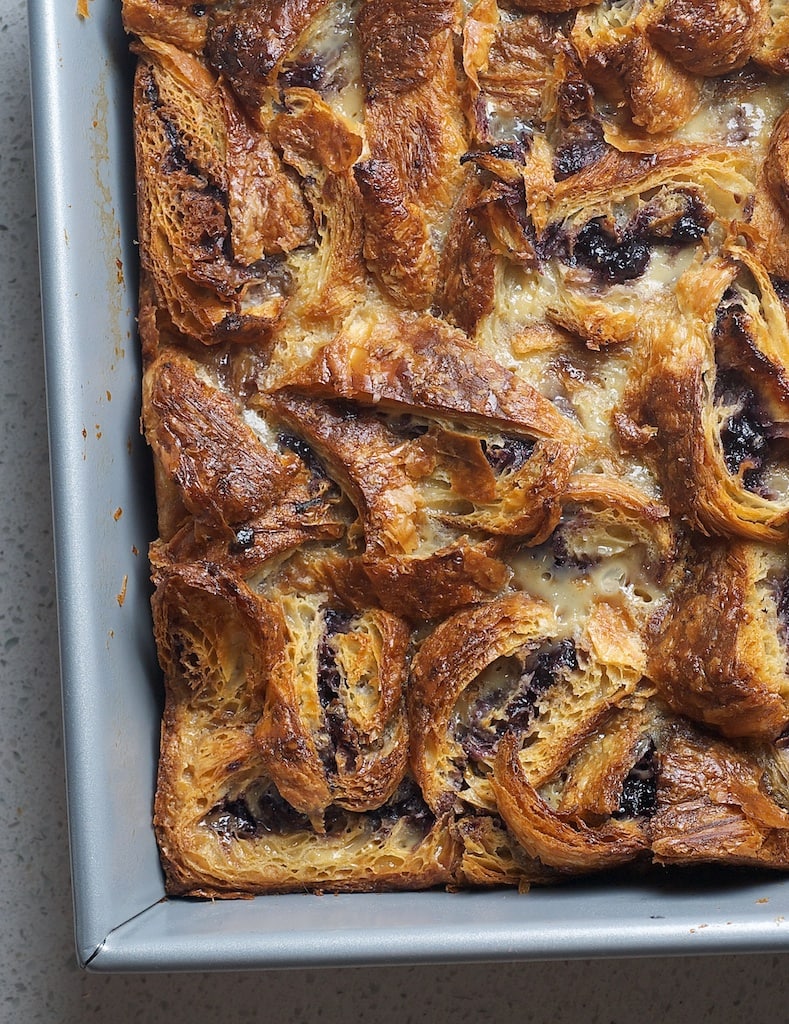 Most people have food memories that date back to their childhood. I was lucky enough to have the typical stereotype Granny who was a fantastic old fashioned cook and who has left hundreds of great food memories stored in my head.
The one family pudding though that springs to mind is the one that Granny used to make when my relatives from down South used to visit; that recipe is an old traditional British pudding – Queen of Puddings. The pudding is said to date from a pudding that was devised by chefs at Buckingham Palace for Queen Victoria – I don't know if that is true, but it certainly is a pudding that is fit for a queen!
I can still remember as the delicious, sweet pudding was ceremoniously served and Granny would cut through the light meringue down to a layer of her home mad jam and then to the egg custard base.
As Granny was an old school housewife, thrift was important (and also necessary) and so what went in the custard base of the pudding depended on what needed using up in the pantry – it could have even have seen a little sherry added to the sponge!
These days I don't make this pudding too often, I am diabetic and there is just far too much sugar for me in it; I do however still make it on special family occasions and it is still as popular now as it was when I was a kid; I now buy cheap Swiss rolls from the supermarket to use in the base – however, as Granny did, you can use stale bread or cake that needs using up – but as I can buy a Swiss roll for under 20p I'm not being too extravagant – as Granny would not have approved!
QUEEN OF PUDDINGS
Serves 4
INGREDIENTS
Base
1 pint milk
50g sugar
1 jam Swiss roll
2 egg yolks
½ teaspoon vanilla essence
Zest of 1 lemon
2 tablespoons raspberry jam
Meringue Topping
2 egg whites
50g caster sugar
METHOD
1. Preheat the oven to 310 °F/160 °C/Gas 2.
2. Lightly grease a 2 pint ovenproof dish.
3. Slice Swiss roll thinly and place on base of dish, sprinkle with lemon zest.
4. Place the milk into a saucepan and slowly bring to a gentle boil.
5. In a large bowl whisk the sugar with the egg yolks and vanilla essence until light and fluffy. Still whisking, slowly add the warmed milk to the egg mixture.
6. Pour the custard over the cake carefully.
7. Bake the pudding in the oven for 15 – 20 minutes or until the mixture is well risen and almost set.
8. Remove the pudding from the oven and leave to cool.
9. Increase the oven temperature to 375 °F/190 °C/Gas 5.
10. In a large, clean and dry bowl, whisk the egg whites until stiff peaks are formed.
11. Whisk in half of the castor sugar, then with a metal spoon gently fold in the remaining sugar.
12 Warm the jam and spread it carefully over the cooled base, trying to avoid breaking skin.
13 Cover with the prepared meringue topping.
14. Sprinkle the top with a little extra sugar and bake for 10 minutes or until the surface is crisp and the peaks have began to brown.
15. Serve immediately and enjoy
I am sure that you will enjoy this delicious pudding; just writing about it is making my mouth water.
When you try it I'm sure that you will agree this truly is a Queen amongst puddings!
Source:
1. Easy pudding | BBC Good Food
2. South Beach Diet Phase 2: When it isn't Working
3. Custards and Pudding Recipes – Allrecipes.com

Image Credit
www.bakeorbreak.com