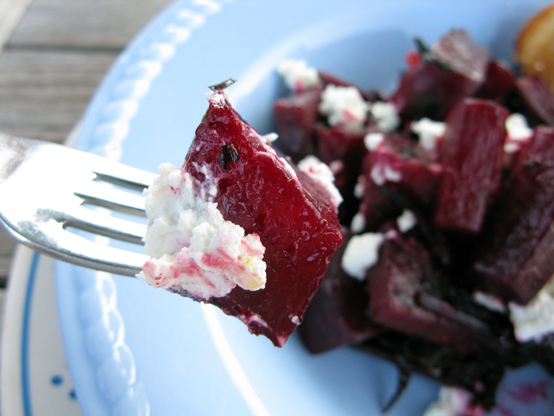 Citrus Beets
This is beet salad at its simplest: just beets with a dressing of orange and lemon juices, seasoned with nutmeg and a dash of ground cloves. It makes a good addition to Thanksgiving and Christmas dinners, and to other festive occasions.The sweetness of the beets combines with the sweet and sour citrus juices to make a salad that is also a treat, surprisingly palatable even to many who dislike beets.
This recipe calls for freshly squeezed orange and lemon juice. You want to end up with about twice as much orange juice as lemon. If you do not have fresh oranges or lemons, ready made juice may be used, but it must be 100% juice, no added sugar, no juices besides orange and lemon.
Ingredients:
• 1 to 3 bunches of beets, roots only (greens can be used in any spinach or chard dish)
• Juice of 3 to 6 oranges and 2 to 4 lemons, approximately.
• 1 to 3 pinches nutmeg
• Dash of ground cloves
Preparation:
1. Wash the beets. Pat dry.
2. Place the beets in a steamer basket, with about 2 – 3 inches (5 – 8 cm) water in the pot. If you do not have a steamer basket, you can cook the beets directly in the water.
3. Bring to a rolling boil. Turn down the heat as low as it will go and continue to boil. Let the beets steam until they are soft enough to give easily when poked with a spoon or fork, and the skin comes off easily. This will probably take about 20 – 40 minutes, depending on the size of the beets and on how many there are. They can also be steamed in a slow cooker, following its directions.
4. While the beets are cooling, juice the oranges and lemons. In a medium to medium large mixing bowl, whisk the juices together. Remove any seeds.
5. Add the nutmeg and cloves to the juice mixture. Whisk.
6. When the beets are cool enough to comfortably touch, cut off the ends. Remove the skins. If the beets are cooked well enough, their skins will just slip off when you rub them with your fingers.
7. Slice the beets. Place the beet slices in the juice mixture. There should be enough liquid to just cover the beets. If necessary, add more lemon and/or orange juice.
8. Cover. Chill for at least 2 hours before serving.
One bunch of beets will serve about 4 to 6. If expecting a much larger crowd, more should be used. For best results, make citrus beets the night before. The longer it chills, the more time the flavors have to marry.
Acknowledgement: Inspiration for this recipe came from "Food," by Susan Powter, Simon & Schuster, 1995. Powter provides very basic directions, with no precise measurements or proportions, for a dish called "Beets in Citrus Dressing," which has much the same ingredients as this recipe. The numbers and proportions, and the inclusion of nutmeg, are my own invention.
Source:
1. Citrus Beet Salad Recipe : Ingrid Hoffmann : Food Network
2. Cantaloupe Benefits & Nutrition Facts
3. Spinach Salad with Citrus and Roasted Beets Recipe – Steven …

Image Credit
honestfare.com